If you've chosen to have kids at your wedding, you've probably been considering what kids' wedding entertainment is the best in order to keep them from getting bored and whiny during the ceremony and reception. After all, you'll want their parent(s) to have a good time and be able to enjoy the celebration. Or perhaps you have some kids of your own who will be there, and you want to make sure they're entertained during all those hours.
There are definitely some best practices and smart things to do in order to keep the little ones happy on your big day. Doing these will keep both the kids and their parents happy.
With a little creativity and planning, you can provide the kids in attendance to have a truly memorable time. Kids' wedding entertainment isn't too difficult. Here are some ideas that we have seen at Blush Banquet Hall that have worked extremely well.
Establish A Kids-Only Area
If the kids are just hanging around their parents as they eat, drink, and chat, those kids are going to get bored quick. To combat this, set up a kids-only area where they can run around and play with other kids at the wedding.
This can be a tent, teepees, a playhouse, or simply a separate room that your wedding venue has under the same roof. These areas can be as simple as a bouncy castle by itself, or it can be a kids' "dream room" filled with video games, a movie, a bubble station, ring toss, hopscotch, glow sticks, crafts, a piñata, and pre-approved snacks. Talk about kids' wedding entertainment!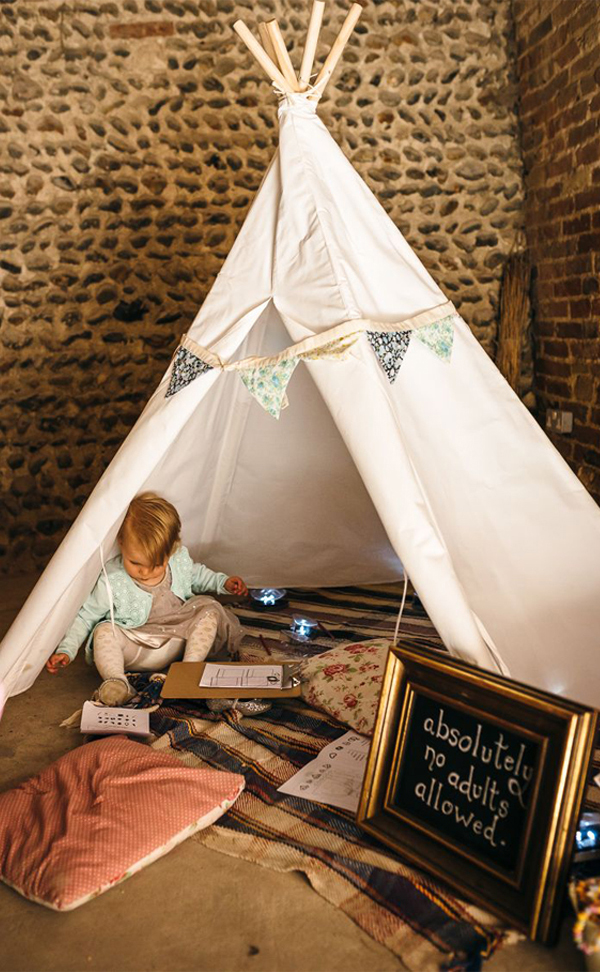 Image: Beth Moseley Photography
Kids will love this. Having a space designated especially for them will give them a sense of importance, and they can have a good time and make new friends.
Obviously, safety is priority. Make sure the kids-only area is either within viewing distance of the parents, or hire someone to watch over the kids as they play. To prevent allergic reactions or over-sugaring, it's also important to make sure the kids-only area isn't near the food or cake. This area should also be a safe distance from doors where kids could run out, wires, or speakers.
Have "Kids-Only" Time On The Dance Floor
Have your DJ or band throw in a few songs that kids will like to dance to every 10 songs or so. Not only will this make the kids ecstatic, it will also give the adults a chance to take a breather. This will keep kids' energy levels up and ensure that they're having a great time. Plus, consider the adorable photo ops!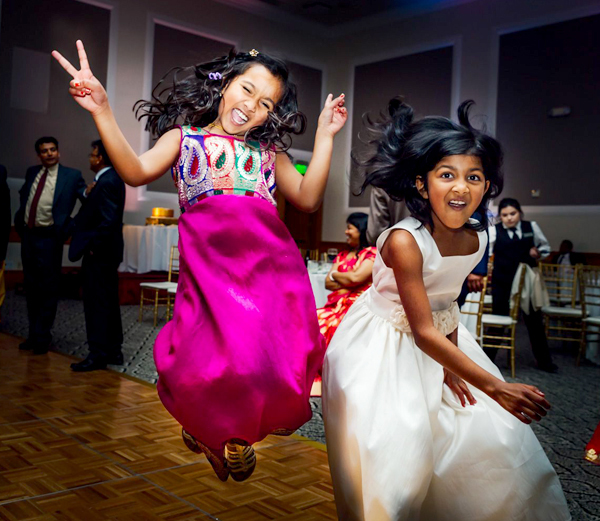 Image: MP Singh Photography
Some great song choices for kids include "Twist and Shout" by the Beatles, "Happy" by Pharrell, "Macarena" by Los de Rios, "Let it Go" from Frozen, and "The Lion Sleeps Tonight" by the Tokens.
 Set Up An Amazing Games Table
If the thought of an entire kids' area makes you nervous, consider a simple games table instead. This is a great way to keep the kids entertained together while they're still in the same room as their parents.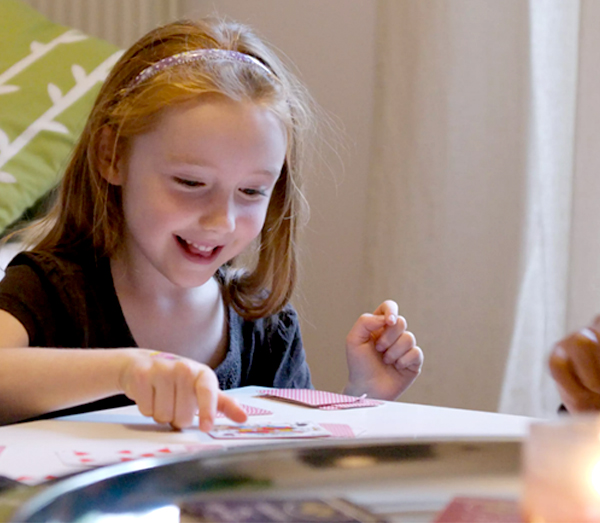 Image: Christian Jacquet
Choose games that aren't too complex or complicated, that don't have a million small pieces. Simple games like checkers, Go Fish, Mad Libs, and Guess Who? are always good bets. Be sure to include enough games so that kids don't fight over them.
At this table, you may also want to include Legos and also add a few coloring books and crayons. Crayons can be purchased very cheaply, and you can also download and print free coloring sheets from online as well, if you don't want to buy coloring books.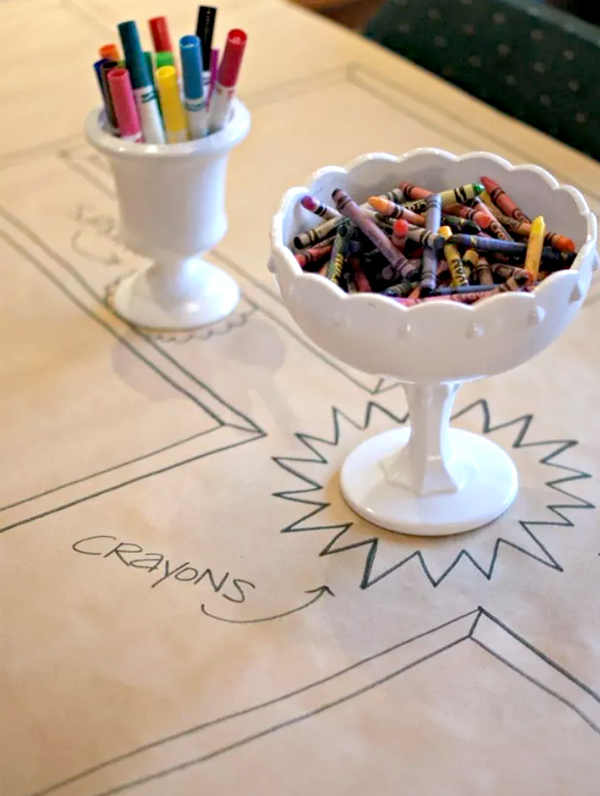 Image: dimplesandtangles.com
Hire Professional Kids' Entertainment
If you're really serious about keeping the kids entertained at your wedding reception, you may want to consider hiring a kids' entertainer for a few hours. Different professionals do different things, but you should have your pick of what you'd like. Some are basically the same as party clowns or magicians (face painting, balloon animals, etc.), and others arrange elaborate games that take a while, such as detailed scavenger hunts.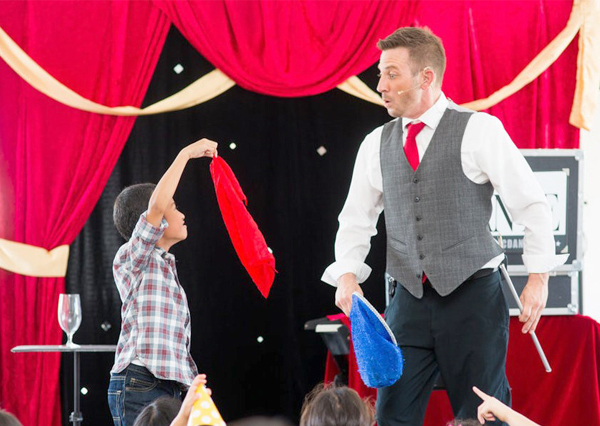 Image: riveraevents.com
When it comes to hiring a kids' entertainer, just be sure to really take your time and dedicate yourself to some research. Make sure the person or team you're thinking about has glowing reviews and a proven track record. It's very important that the entertainer really knows how to work with kids during celebrations and parties.
Kids are a joy to include on your wedding day. They bring a life and playfulness that is delightful. Hopefully this list will help you during your wedding planning process! If you're organizing your wedding and you're searching for the perfect Los Angeles wedding venue, please check out our online gallery at Blush, or contact us for more information!