If you're a DIY bride or groom, you probably already know the joys of thrifting. However, if you don't, then thrift stores are about to become your new best friend. If you do it right, thrift store wedding décor can be just as impressive as over-priced, mass-made wedding items.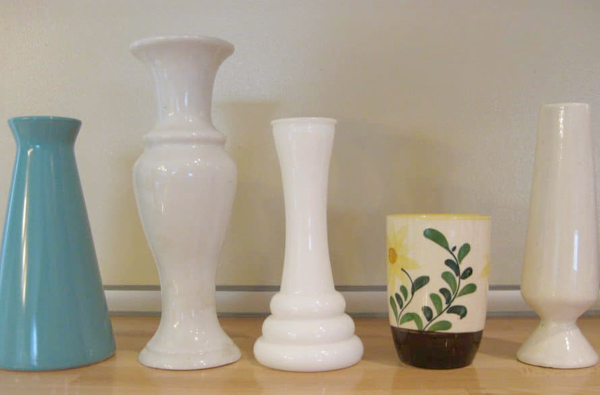 Image:hisforhandmade.blogspot.com
Thrifting for wedding décor is a very inexpensive way to find incredible décor that is unique. It helps you save money and lessen your carbon footprint — both great things!
Here's the best way to do thrift store wedding décor.
Go In With A Game Plan
Even before you set foot in a thrift store, have a game plan. This means that you should already know your wedding's color palette, style, and needs.
It's a great idea to make a detailed list of what you'll need before going into a thrift store, whether that's mismatched wine glasses, centerpieces, candles, matching plates, crates, whatever! Write it all down so that you have a mission.
And be sure to not get discouraged if the first few thrift shops don't have anything you need. Go to different stores, go with a game plan, and go often.
How To: Wedding Seating Chart on a Mirror
Know The Best Finds
There are several items that you can always find in thrift shops that make the best thrift store wedding décor. Be sure to look for:
Frames: fantastic for picture displays, seating charts, table numbers, menus, and signage.
Vases: thrift stores always have plenty of low-priced vases for flowers and centerpieces.
Books: if you're utilizing books as décor, thrift stores always have a lot of books!
Furniture: need things like trunks, tables, and chairs? Thrift stores will have low-priced furniture.
Centerpieces: If your wedding has an eclectic vibe, thrift store centerpieces are a great way to go. Things like baskets, candlesticks, crates, and decorative bowls can really allow you to be creative with your centerpieces.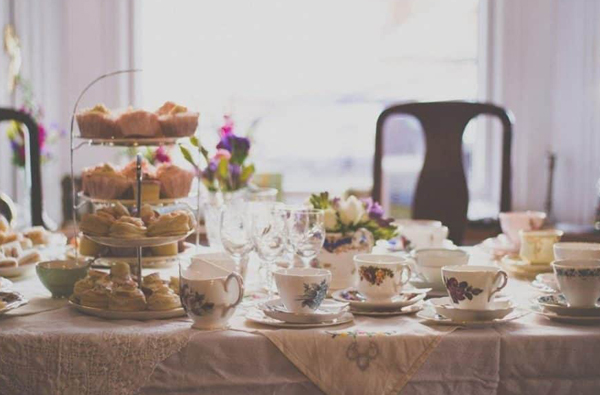 Image: homesandantiques.com
China/flatware/glassware: in a thrift shop, sometimes dishes match, and sometimes they don't. But it's definitely always worth a look, and the mismatched ones often look amazing together.
White linens and lace: thrift stores are fabulous for having white fabrics, white napkins, tablecloths, and lace! Just make sure to check for stains first.
Bridal attire: this one isn't exactly décor, but it's worth mentioning. For things like your engagement photo shoot and rehearsal dinner, thrift stores are excellet for having white dresses.
Embrace Paint
If you like the variety of heights or sizes to your thrift store wedding décor finds but you still want them to have a cohesive look, you'll need to ignite your love of paint.
Many thrift store items like vases can be painted, and making them all the same color will bring a unity to them.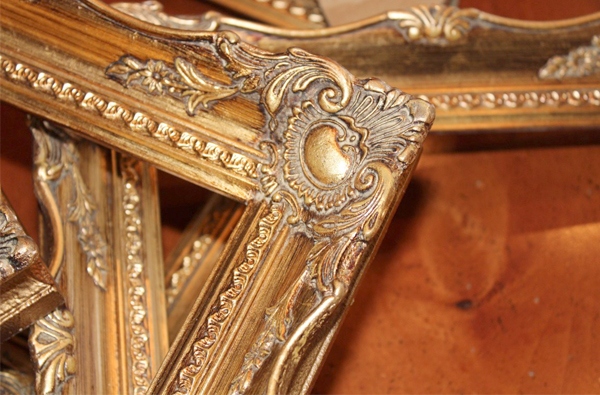 Image: dellsdailydish.com
Use Etsy To Fill Gaps
Utilize a resource like Etsy.com to round out your wedding décor needs. If there's something you need for your wedding and truly can't find, Etsy will have it — and it will be consistent with that "DIY bride" vibe. Or, you can…
…Borrow From Other Brides
It's a good idea to ask your friends and/or family members who are married if they have anything left from their wedding that you can borrow for yours.
We all know that couples buy a lot of décor items for their wedding and never use them again. They are beautiful things that tend to end up in storage.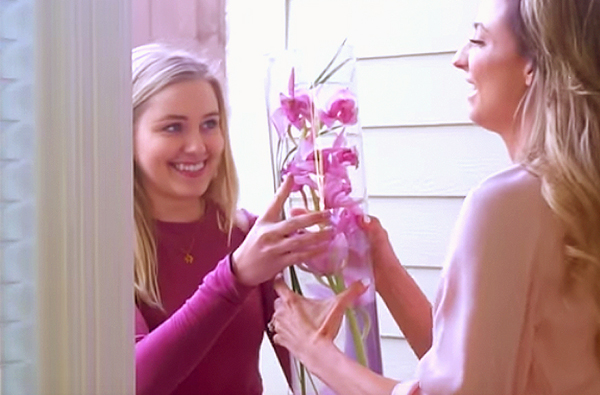 Image: daniaustin.com
By asking around for things like table runners, linens, vases, archways, mirrors, envelope boxes, etc., you can really save.
Repurpose Your Flowers
This isn't exactly a thrift store wedding décor tip, but it is a great DIY bride tip. Get some low-priced vases, or borrow some, and use you and your bridesmaids' bouquets as centerpiece arrangements for your reception.
So, what do you think about using thrift store wedding décor? If you choose to go that route, we hope it helps you save money and have a gorgeous wedding aesthetic.
And if you're still looking for your perfect Los Angeles reception hall, take a look at what we have to offer at Blush Banquet Hall, and contact us if you'd like to make an appointment to come in to see us!