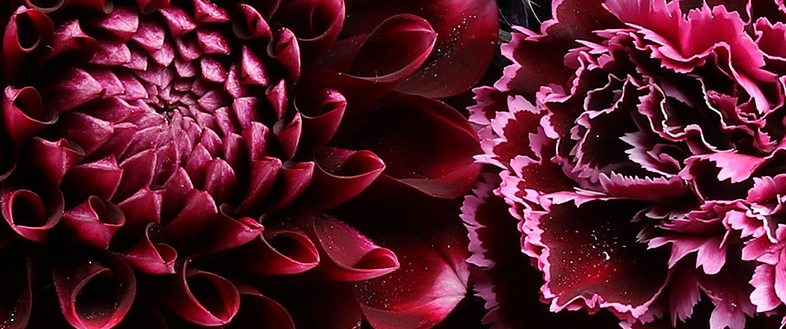 Wedding dresses tend to steal the spotlight, but boutonnieres are one element of wedding attire that allows for a lot of creativity.
For a long time, boutonnieres were limited to simple flowers, but now all sorts of plants are being incorporated: succulents, berries, fruits and vegetables, pinecones, and loads more. Great care is being given to the color of the boutonniere against the color of the suit or tuxedo as well, which can create a truly dazzling effect. Items such as watches or keys are also being added, sometimes in place of plants or alongside them, and some choose to create their own flowers out of paper, wood, or metals. They are becoming more and more personalized, which is ideal for a wedding.
Here are 50 of our favorite boutonnieres. Take a look below and see what inspires you!

And why not start with some incredible choices for Pantone's Color of the Year: Living Coral? Check these out:
Source: ruffledblog.com

Source: happywed.com

Source: rocknrollbride.com

Source: elysehall.com

Source: WomanGettingMarried.com

Source: ruffledblog.com

Source: brit.co

Source: elegantwedding.ca

Source: gamosmagazine.com

Source: larkfloral.com

Source: ourlaboroflovebyheidi.com

Source: elegantwedding.ca
Or maybe you don't necessarily want to use the color of the year in your wedding. Perhaps you'd prefer a boutonniere that is more personal and means something deeper.
Many grooms choose a boutonniere that represents something about themselves, whether it's a family heirloom or a photo of loved ones who have passed away (see the "pocket watch locket" boutonniere below), or simply a symbol of something meaningful (such as the deer boutonniere in the gallery below). Your boutonniere is a fantastic opportunity to allow elements of your personality to shine.
Source: annarozenblatphotography.zenfolio.com

Source: rayaphotography.com

Source: ladandlass.co.za

Source: womangettingmarried.com
Then again, you may want to keep it whimsical—especially if you're having a themed wedding or something very splashy and colorful. There are plenty of incredible options available for statement boutonnieres that are fun and unique. Some incorporate florals, and some don't. That's the beauty: if you can dream it, someone can definitely make it.
Source: francefluers.com

Source: rocknrollbride.com

Source: amandamariestudio.com

Source: moncheribridals.com

Source: amieottophotography.com

Source: womangettingmarried.com

Source: landonjacob.com

Source: weddmagz.com

Source: munaluchibridal.com

Source: CrazyForUs.com

Source: nbarrettphotography.com

Source: weddingchicks.com
If whimsy isn't your thing, consider minimal greenery for your boutonniere. It always looks very nice and simple, and there are so many different shades of green that you'll be certain to find the perfect one to match your suit.
Source: brides.com

Source: southboundbride.com
Do you like the idea of your boutonniere being organic, but not necessarily floral? If you'd like something a little off the beaten path yet still plant-based, take a look at these beauties below. Many grooms are incorporating elements like fruit, feathers, pinecones, wheat, shells, and twigs. There are many, many beautiful things that nature has to offer that make sensational accessories.
Source: ohlovelyday.com

Source: rebekahjmurray.com

Source: ourlaboroflovebyheidi.com

Source: asweddings.com
And going in the opposite direction of organic: boutonnieres made of metal, paper, fabric, yarn, and plastic! This type of boutonniere allows for a lot of creativity because you can basically fashion anything you want, in any color or style. These types of boutonnieres are also particularly unique and always make for a conversation piece. Bonus: you can also keep them forever.
Source: theknot.com

Source: anushe.com
Succulents make wonderful boutonnieres. They look fresh, they're durable, and they're beautiful. There is quite a wide variety to choose from as well, and they go hand-in-hand with many wedding styles, from backyard to beachy to rustic to bohemian.
Source: bellethemagazine.com

Source: flowerstory.com.sg
You'll have a great time selecting just the right boutonniere style and color to go with your suit. Different colors compliment each other in a stunning way, and there are limitless options. Nothing will jazz up a suit like a bright pop of color on a boutonniere. Really take your time researching colors to see where your tastes take you.
Source: custombynicole.com

Source: getweddingsavvy.com

Source: southboundbride.com

Source: elegantwedding.ca

Source: othermomix.com

Source: benyew.com

Source: chictrends.es

Source: bridalpulse.com

Source: bespoke-bride.com

Source: chictrends.es

Source: ruffledblog.com

Source: CompassRoseFloral
Hopefully these give you some fantastic ideas for your own wedding. Remember, keep it personal and make sure your boutonniere reflects your own specific taste. This could be as simple as selecting your favorite flower or color, or it could mean getting deeper into the design and choosing something handmade. It's all up to you, so have fun and enjoy choosing your perfect wedding day boutonniere!